Library Tech Pages
Terminal Server is now Virtual Desktop Interface VDI
Now you have more virtual desktops and more software available to use online than ever.
The VDI server on campus hosts several different Virtual desktops and depending on what department your in and classes you take different desktops will be available. Each one is like logging on to a fully configured campus PC with all our software only you don't have to be on campus you can be anywhere in the world.
If there is ever a piece of software you can't find on a library PC VDI is where to find it
On the desktop of all the library public PCs you'll find the VDI VMware Client shortcut.

VDI Icon

Once you click on that double click the icon inside labeled vid.newpaltz.edu and login.

Inside you'll find one or more choices of desktops to choose from. Win7Lab is the default. But you may see others.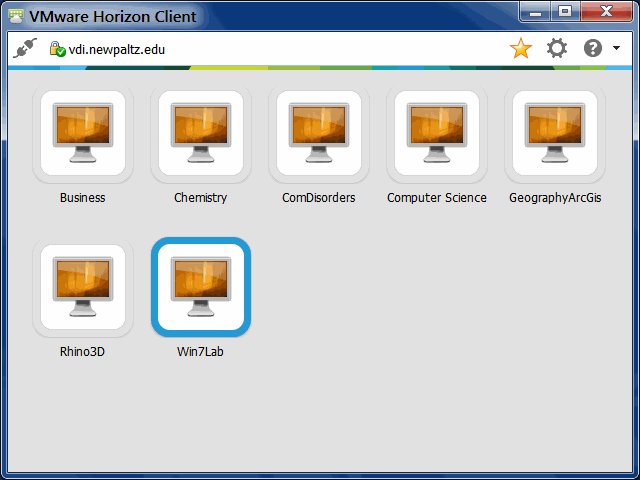 Saving
You may be able to save to your campus N: drive (student network storage space) If you see the N: drive under your Computer icon inside the Virtual PC than try it save something to the virtual desktop N: drive and then minimize the Virtual PC window and see if the file is on the N: dive on the library PC you are using. If so that VDI can easily shre files back and forth with the local PC via the N: drive.
But the configuration of the virtual desktops gets frequently updated to to get the latest information read up on them on the campus academic computing web site: http://acs.newpaltz.edu/vdi/