Use the VPN to Help Database Connection Issues
The campus VPN can help in some off-campus database connection problems because it makes your PC appear to be on the campus network.
Connecting to databases from the VPN should be direct instead of through our proxy server. This solution should be used only when no other solution works, and please report all database connection problems to the library tech staff.
Artstor is one database that periodically asks you to login from on campus. You can emulate an on-campus login using the VPN –However, you must set the "Group" setting to "Full – Wireless or On-Campus".
The campus VPN client is called Cisco AnyConnect Secure Mobility Client. 

Looks like this after install



 How to Connect:
To get started go to  https://vpn.newpaltz.edu/, change the group to "Full – Wireless or On-Campus" and then log in.
Follow all the instructions to download & install it.
Once it is installed, run it and log into it be sure to change the group to "Full – Wireless or On-Campus" each time you are asked to log in.

For Artstor:

After you are logged into the Cisco AnyConnect VPN client, log in to Artstor a couple times, closing it completely after each log in.
You can then disconnect from the VPN.

For other database connection problems, test to see if you can connect with the VPN

Only use the VPN like this when using a database and disconnect when you are done using it.
The VPN site looks like this before you log in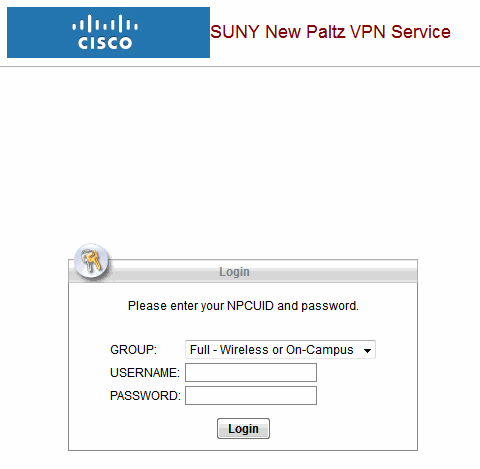 Modified 2018-06-04