Become a DASH Lab Intern!
Come join our TEAM!
(applications for Fall 2019 being accepted now. Deadline: April 22, 2019)
DASH Lab interns are an important part of our campus community. Interns develop &  give trainings on various digital software and tools. They work with DASH Board members on digital scholarship and creative projects. And they staff the DASH Lab during our open office hours, providing assistance to student, faculty & staff on their academic and creative digital projects.
You can earn between 3-6 Internship credits!
Read the SUNY New Paltz College of Liberal Arts and Sciences Newsletter article featuring our DASH Lab interns!
Application materials include: cover letter (stating applicable knowledge and skills, what you hope to get out of the internship, and how it fits with your career/creative works plans), current resume, and a letter of recommendation (emailed directly to dashlab@newpaltz.edu – put student's name in the subject line).
Email application materials to: dashlab@newpaltz.edu 
Deadline: April 22, 2019 (interviews will be then scheduled for late April and early May)
For more Internship information, see: http://hawksites.newpaltz.edu/dashlab/internships/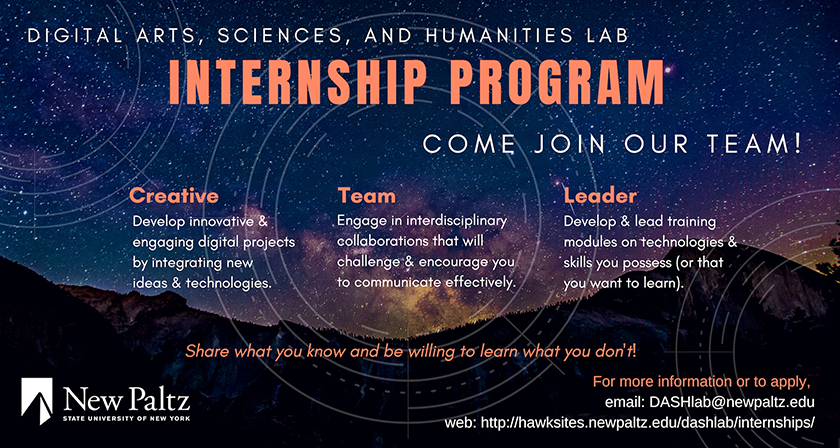 Modified 2019-03-26