Library Tech Pages
Wireless in the library
Wireless networking is only available to SUNY New Paltz students, faculty, and staff; it requires your New Paltz Computer User's ID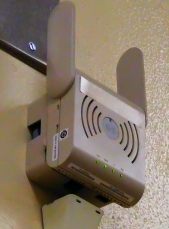 Areas available
Wireless networking is available throughout the Library building. You may need to reconnect if you walk with your laptop from one floor to another.
For best connections, find a wireless access point (like in the picture on the right) and sit within sight of it. The less people around that wireless device the better.
Printing
Printing is now available for users from their own laptops. Wireless printing is still part of the print quota system and it requires a few steps to set up. Printer 1 is the printer in the library that you need to use when you set it up. We have put the wireless printing setup instructions on a separate page. Follow the link below to access those instructions.
Wireless Printing Setup Page
Wireless Network Login CHANGE
"NP Hawks WPA" is the connection name.
The campus is changing from the web based login to a permanent saved login. This login also has the benefit of being secured with at least some encryption for all traffic.
Depending on the device connecting can be easy or complicated. Here are the capus instructions for getting your device on the campus WiFi.