Special Collections Guides and Descriptions
GUIDES
Books
Books form the bulk of the Special Collections, and they are all included in the STL Catalog. Their LC call numbers start with New Paltz or Rare. SC Books can be requested for viewing in the library by using the Patron Registration Form, but first see our Guidelines for Using Special Collections linked below. Books may not be scanned without prior permission from the Head of Special Collections. Patrons may use smart phones to take a limited number of images for personal use.
Guide to Researching History of SUNY New Paltz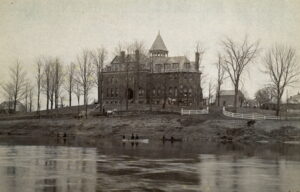 New Paltz Normal School when it was down on the Wallkill
The Sojourner Truth Library serves as a repository for some of the official and unofficial records of SUNY New Paltz. This collection of records, personal papers, and photographs is called the College History Collection. This guide includes information on Published Histories and College Publications (Faculty, Student and Administrative) held in Special Collections that may be helpful to researchers.

Paltzonian Yearbook Collection
The entire Yearbook Collection is available through digital access in the library catalog. In special circumstances individual print volumes may be requested for viewing in the Reading Area by filling out a Patron Request Form. The first yearbook, Auld Lang Syne was published in 1892, the next run, was as the Senior Annual (1913-1922). Paltzonian became the official title starting in 1926. No yearbooks were printed in 1924, 1972, 1973, 1977.
In 2012, alumnus Alan Dunefsky '69 created a spiral bound collection of headshots, snapshots and other materials FOR THE CLASS OF '72, which is held alongside the Paltzonians in Special Collections. Special Collections also holds a DVD containing the headshots, photos submitted from members of the class of '72, video clips, anda letter from President Neumaier written in 2012 for the class of 1972. Additional contributors to this volume and DVD include Mark Fried '72, Yan Li '12, Josh Roseman '12, and Mark Koczanksi.
The early years of publication present good overviews of the campus, faculty, academics and student activities. The final years (ending in 2008) are less informative.
New York Heritage Digital Collections, SUNY New Paltz – Sojourner Truth Library: Digitized Yearbook Collection
William J. Haggerty Papers Collection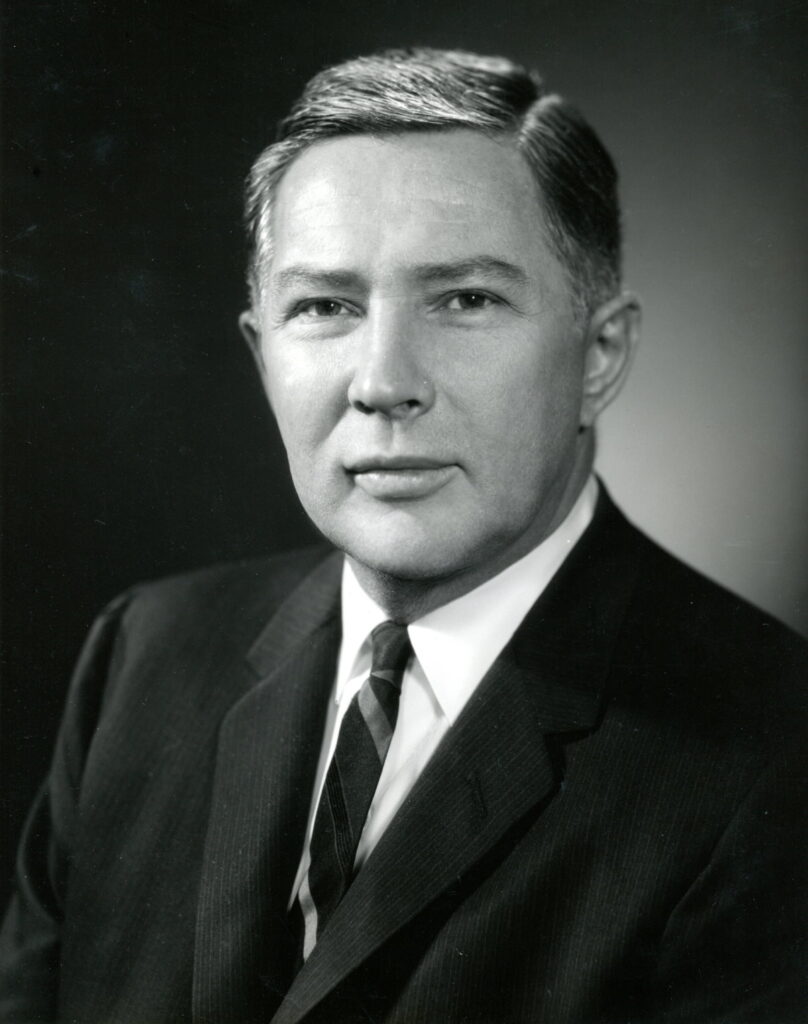 William J. Haggerty President of the College from 1944-1966
60 cu. ft. (CHC 1973:1MAN)
(includes files of his predecessor, Dr. Lawrence H. Van den Berg, 1925-1943)
William J. Haggerty (1927-1975) was President of the College from 1944-1966. Haggerty instituted international studies for undergraduate students.
Professional papers primarily from his association with State University of New York College at New Paltz (SUC New Paltz) with some papers from earlier positions with the Tennessee Valley Authority and the University of Connecticut and his graduate work at the University of Chicago.
Includes correspondence, memoranda, reports, minutes, conference materials, programs, contracts, addresses, legislative acts, catalogs, booklets, photographs, audio tapes of speeches and programs, papers and speeches presented, lecture notes, and research papers. Subjects include accreditation, Conference on World Affairs (1954-1970), educational associations and organizations, International Relations Committee of the New York State Teachers Association (1946-1951), foreign visitors to SUC New Paltz, staff and faculty at SUC New Paltz, college budgets, students, and other administrative matters. Also, the correspondence files of Haggerty's assistant, Robert C. Davidson, 1960-1967;and the files of his predecessor, Dr. Lawrence H. Van den Berg, containing correspondence, reports, job descriptions, and financial records pertaining to lectures, personnel, classes, appropriations, state regulations, appointments, construction, students, and other issues, 1925-1943.
Innovative Studies Program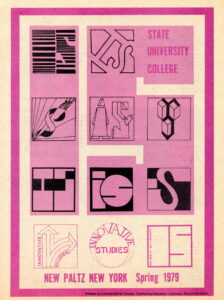 Poster for innovative studies program 1979
25 cu. ft. (CHC 1983:1MAN)
Papers related to the Innovative Studies Program that ran on the SUNY New Paltz Campus from approximately 1973 to 1983, Dr. Alvin S. Konigsberg served as the Program's director. Innovative Studies was a program offering experimental courses and fieldwork, taught by faculty, other professionals, and community people.
Alphabetical files contain bulletins, memoranda, letters, directories, reports, brochures, minutes, and job descriptions concerning fieldwork assignments, grades, evaluations, internships, teaching assignments, funding for projects, and other administrative concerns of the office. Chronological files contain correspondence, proposals, memoranda, registration records, evaluations, course catalogs, and resumes pertaining to courses, teachers, fieldwork, and other projects sponsored by Innovative Studies. Files of Dr. Alvin S. Konigsberg, Director, contain correspondence, memoranda, reports, minutes, notes, and contracts concerning teachers, courses, budgets, and other administrative issues. Miscellaneous files contain memoranda, minutes, forms, requisition orders, budgets, proposals, other financial records, students' fieldwork contracts and journals, and reports.
Sojourner Truth Records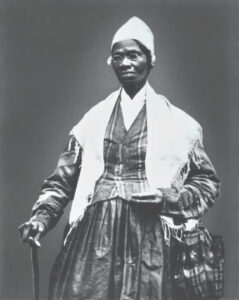 Sojourner Truth
5 cu. ft. (STL 1986:1MAN)
Abolitionist, reformer. Sojourner Truth (ca. 1797-1883) was born a slave in Ulster County and lived part of her life in New Paltz.
Materials about Sojourner Truth, including the cantata "Sojourner Truth" by Robert de Cormier and Carl Abrams, ca. 1953;a play, programs, and clippings from activities honoring Truth put on by the Downtown Community School, New York City, and Camp Woodland, 1953-1960; materials from the dedication program of the Sojourner Truth Library in 1971 including clippings, articles, facsimiles of documents concerning slavery and abolitionists, programs, and audio tape; and other articles about Sojourner Truth's life. Other items include photocopies of letters written for Truth by friends concerning her children, her grandson James fighting in the Civil War, friendships, and her speaking itinerary, 1853-1864; photocopies of letters by Frances W. Titus concerning Truth's health and activities, 1873-1876;and photocopies of clippings and notices about her speeches, ca. 1850-1879.
"Revolting Behavior: The Challenge of Women's Sexual Freedom" Conference Papers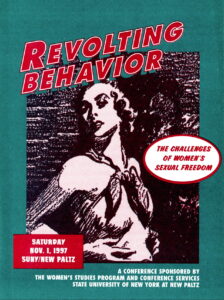 Poster for Revolting Behavior Conference 1997
1 linear ft. (2 boxes)
Papers related to the SUNY NP Women's Studies Program conference titled "Revolting Behavior" held November 1, 1997 on the New Paltz Campus. Includes planning minutes, correspondence, news releases, conference program and conference evaluation forms. Also papers relating to the ensuing controversy, including a large collection of newspaper articles on the event and its aftermath. The bulk of these papers came from Dr. Amy Kesselman of the SUNY New Paltz Women's Studies Program (now Women's, Gender, and Sexuality Studies Program), some papers were also donated by Peri Rainbow, who served on the conference planning committee (noted with PR in the finding aids). Collection covers 1997 – 2000.
SUNY New Paltz Historic Photographs Collection
The historic photographs collection consists of 190 print photographs ranging in both size and photographic process. The photographs document the history of higher education in the town of New Paltz, from the establishment of the first New Paltz Academy in 1828, to the present State University of New York at New Paltz. Please contact the Head of Special Collections with questions regarding the Photograph Collection.
SUNY New Paltz Postcard Collection – 370 postcards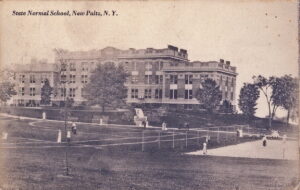 New Paltz Normal School, Old Main 1910, Students on a tennis court
The collection consists of scanned images of 370 postcards which chronicle the history and development of New Paltz, NY, from the late 19th century to the present. Three major areas of development are chronicled by the collection: the evolution of the State University of New York at New Paltz, the evolution of the village of New Paltz, and the evolution of the Huguenot Street national historic district. The collection was loaned for scanning by Dennis O'Keefe (1951-2006), SUNY New Paltz alumnus, class of 1973.
Delaware and Hudson Canal Maps, 1875 – 1915
16 maps, 2 cu. ft. (CHC 1993:1MAP)
Manuscript surveys, drawings, and maps concerning Delaware and Hudson Canal property in Sullivan and Ulster Counties, including the Masten Pond Reservoir, the village of Eddyville, canal locks at Eddyville, Beaver Dam Reservoir, Sheldrake Reservoir, the village of High Falls, and canal property at High Falls.
Modified 2021-04-29