After Pulse Making and Claiming LGBTQ Space as Artists and Performers
3/29/18, 7pm, Parker Theatre, FREE
The Sylvia Rivera House Living and Learning Community is hosting an event on campus that is going to be inspiring and engaging.
This event brings two community members from the Pulse Nightclub in Orlando to New Paltz, and a D.C.-based poet whose contributions as co-editor of the #PulseOrlandoSyllabus centered conversations about race, gender identity, and sexuality in the critical activist responses in the afterlife of Pulse. The night features drag and burlesque performance, poetry, and a conversation about visibility and claiming space. Please join us! (it's free, there will be food).
After #Pulse + Making and Claiming LGBTQ Space as Artists and Performers +
March 29, 2018, 7pm-9pm Parker Theatre, SUNY New Paltz, Southside Loop
https://www.facebook.com/events/315623545629823/
What does visibility and making space mean for us after the Pulse Night Club Shooting in Orlando, Florida on June, 12, 2016? How do we honor the past and move our creative energies into the future? A night of performances followed by a panel discussion will feature honored guests from the Pulse Orlando community, as well as activist responses to the events in Orlando. Sponsored by the Sylvia Rivera House Living and Learning Community and the Sojourner Truth Library of SUNY New Paltz.
Poet Venus Di'Khadijah Selenite (based in Washington D.C.), burlesque and drag performer C'etait BonTemps, (based in NYC, formerly Orlando), and Venus Envy (based in Orlando) perform and celebrate our space and creative visions for the future of LGBTQ art and activism. Moderated and organized by Lydia Willoughby, librarian at SUNY New Paltz. Funded by a grant from the SUNY Office of Diversity, Equity, and Inclusion.
Venus Di'Khadijah Selenite is a Black queer genderfluid transwoman stationed on the Internet. A poet, writer, performance artist, sex worker, editor, teacher, and advocate, xe is a Bettering American Poetry nominee, a 2017 Pink Door fellow, and the author of trigger and The Fire Been Here.
C'etait BonTemps performs burlesque, drag, and go-go in and around Brooklyn, NY. Trans-Masc. Femme edge. Witch breed. Queer Art.
Venus Envy is Orlando Florida's premier female drag queen. She's been doing drag for two-and-a-half years and she got her start at Pulse Nightclub, where she formerly worked as a VIP hostess.
The event is free and snacks will be provided.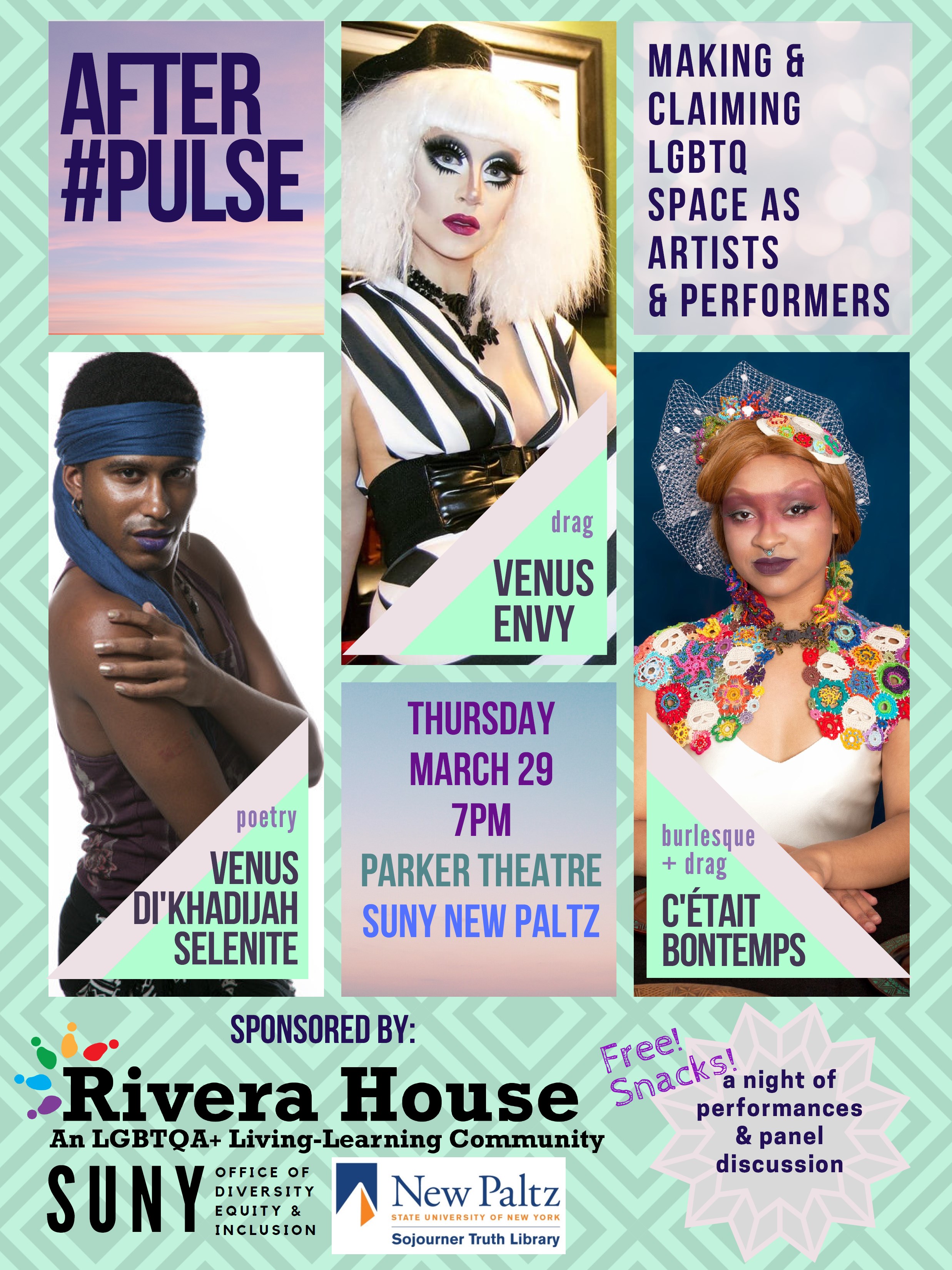 Modified 2018-04-18