Art + Feminism Wikipedia Edit-a-Thon
Wikipedia's gender trouble is well documented. In a 2011 survey, the Wikimedia Foundation found that less than 10% of its contributors identify as female. While the reasons for the gender gap are up for debate, the practical effect of this disparity is not. Content is skewed by the lack of female participation. This represents an alarming absence in an increasingly important repository of shared knowledge.
Recognizing that it is not just female participation that is a problem with Wikipedia, this year the Art + Feminism organizers made a decision to broaden the project by "expanding our focus to include the histories of gender non-binary artists and activists." This, the sixth year of the campaign, is titled Gender + The Non-Binary.
Join us in the DASH Lab at the Sojourner Truth Library to update Wikipedia entries on subjects related to art, feminism, gender, non-binary, and activism. We will provide tutorials for the beginner Wikipedian and reference materials. Feel free to drop by, maybe stay for an hour or two!
Link to create a Wikipedia account: https://en.wikipedia.org/w/index.php?title=Special:CreateAccount&returnto=Main+Page&campaign=loginCTA
After you create an account, please enroll in our program! https://outreachdashboard.wmflabs.org/courses/SUNY/New_Paltz_SUNY_ArtAndFeminism2019?enroll
More information on  our Art + Feminism Wikipedia-thon LibGuide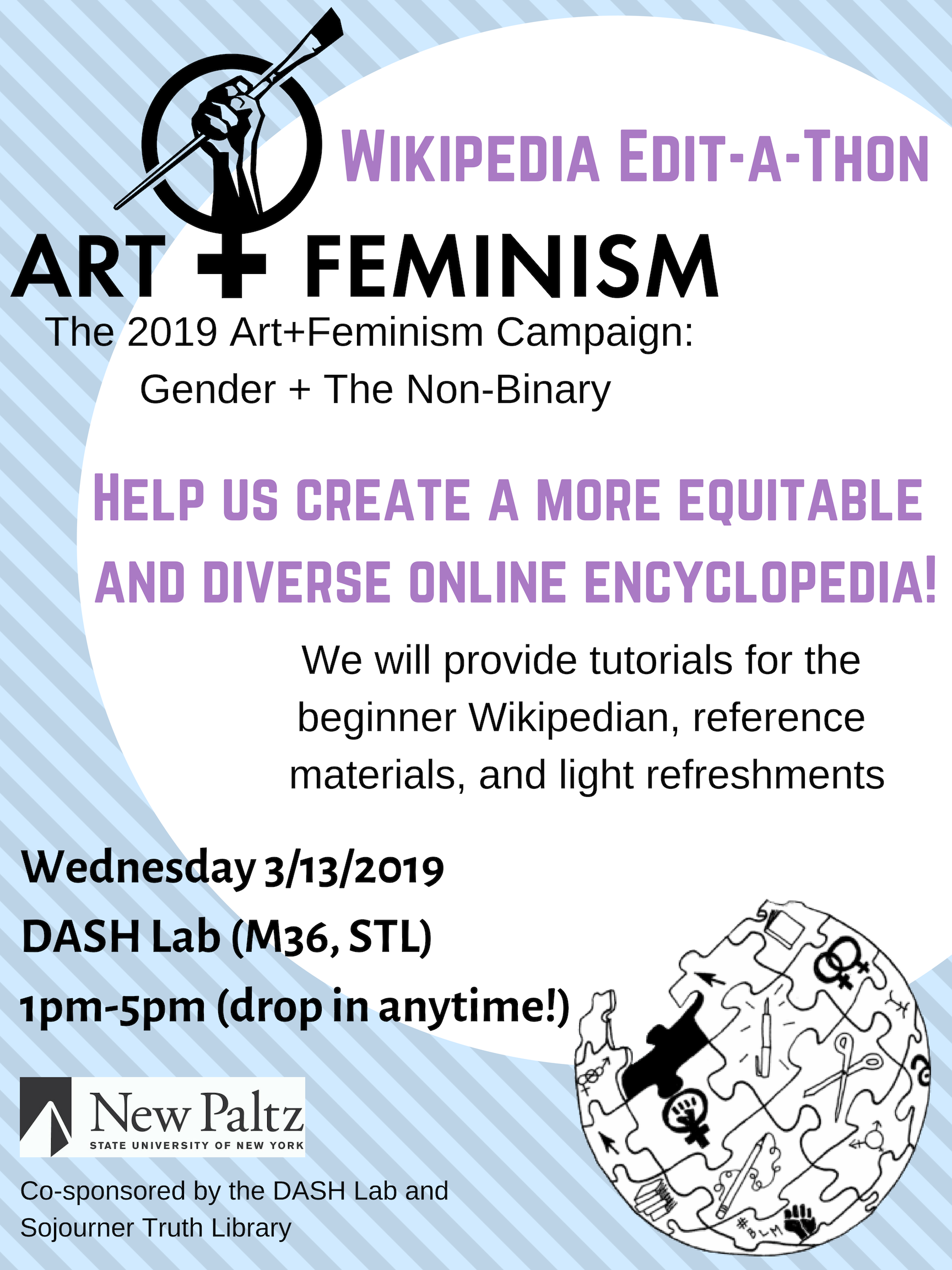 Modified 2019-03-05