Terry Adkins Art
The library celebrated the reinstallation of Mvet Truth,
by Terry Adkins and paid tribute to Adkins' life and work 
October 4th, 2018.
Terry Adkins was an Associate Professor in the Art Department at SUNY New Paltz from
1993–2000. His art is in the collections of the Hirshhorn Museum in Washington, D.C.,
the Studio Museum in Harlem, the Metropolitan Museum of Art and the Museum of
Modern Art in New York, and the Tate Modern in London. Known for his interdisciplinary
approach to artmaking, Adkins' work often embraces the emancipatory potential of music.
His work is grounded by its entrenchment in memory and dedication to community
engagement. He frequently focuses on lesser-known mythologies of African-American
figures such as abolitionist John Brown, botanist and inventor George Washington Carver,
and philosopher W.E.B. Du Bois, among others, and incorporates elements of their histories
into his art making practice.
In 1996, Adkins donated the large-scale sculpture, Mvet Truth, to the College Library.
An homage to Sojourner Truth, the African-American abolitionist and women's rights activist
for whom the library is named, the work is comprised of four wooden abstract forms and
a reproduction of the only known copy of Truth's signature, recreated for the reinstallation
of Adkins' work occasioned by the Library's renovation, by Kathy Goodell, Professor of
Painting and Drawing. The work references a traditional African string instrument, the mvet,
which is made from a raffia stick. The term also refers to the many arts associated with the
instrument such as narrative singing, storytelling, dance, and mime. Adkins stated of this work,
"MVET is onomatopoetic. It refers to the sound made by some West African instruments.
It is also symbolic of [Sojourner Truth's] love of music and her angelic nature."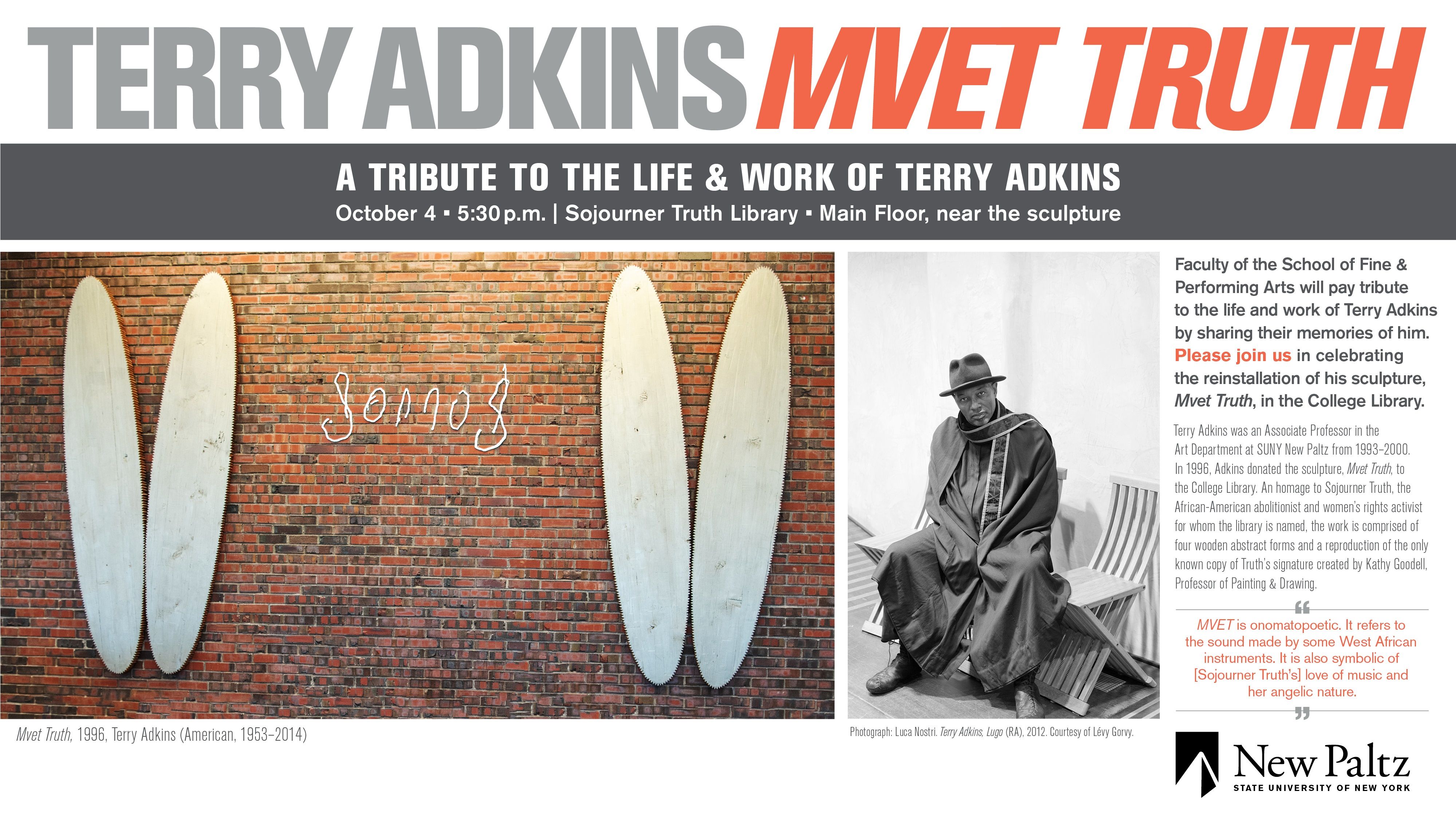 Modified 2018-10-16