Lost Files on Library Computers – Where are my files?
Recover lost files on library computers
Some simple, quick places to look for your files:
Windows list of recently open files – Click the Start Menu and if the program is pinned to the start menu, hover your mouse over the program icon and you may see your file in the list that displays to the right.
The Recent files list in the program you were using – In Microsoft Office, recent files show when you click the File Tab in the left corner. Then Click on "Recent" to see all files opened recently. Other programs have a similar "recent" or "open recent" feature.
Use "Find Lost Docs Utility" to find a file you opened from your email or a web page
When you open a document file from the web or your email, it is placed in a hidden temp folder on the system. If you don't save it somewhere you know, all your work on it may be lost.
Save every file you open from the web with Save As and choose a safe location like the desktop or your campus OneDrive before you edit it. Never just trust that the save box has defaulted to a location you know – always make sure.
If you didn't save it to a known location and now can't find the file, we created an application for all public PCs that will open the hidden temp folders so you can search for it. Use the windows search bar to search for "Find Lost Docs From Web" and open the app.

Two folders will open
Click on the search button in the top right corner of the window
Type part of the name of your file in the search box
Click search
If a copy of your file is in that folder it should show in the list

You may also find files with seemingly random names, but if they came up when you searched for your file name they may be the file.
There may be several copies of files with similar names. These are different versions of your file saved at different times

Select and copy the files that might be yours to the desktop before you try to open them
Open each one. If it is close to what you are looking for, save it with a name you'll recognize

If you have multiple versions, open each to find the most complete one and save any that are close until you have found the best version.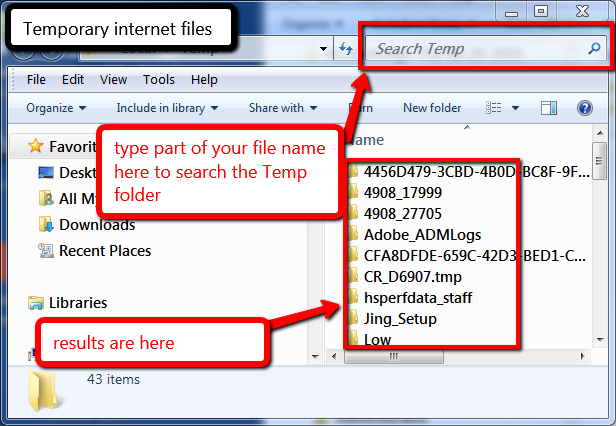 Recover a lost file even if the PC has been rebooted
If you have lost a file while working on a library PC, ask for help at the Tech Help Desk and we may be able to recover the file for you from the PC where it was lost. We don't guarantee we will be able to recover a file, but we have tools that help in some cases.
Modified 2023-07-31