"Oh am I talking too loud?*" – Conversation One TODAY – Oct 3, 2018
A young woman of color recently told me of an occasion in which she had been "loud". In truth, she hadn't been loud at all, she had simply been speaking a difficult truth that had weighed on her heart. My sense is that when people, especially people of color and women, and most especially women of color, speak difficult truths, they are often perceived as "loud", "dramatic", "passionate", "emotional", "political", and that these terms are used to undermine the power of their speaking. It seems to me that too many young women of color must fight to escape the internalization of this picture of themselves.
Does anyone else share this feeling?
Care to discuss?
*lyric from "My Shot", from Hamilton: An American Musical, by Lin-Manuel Miranda
Wednesday, October 3rd at 4:30-6:00 pm in the Sojourner Truth Library Conference Room M39
EVERYONE is welcome to join: secretaries, facilities staff, clerical staff, police officers, as well as faculty and students.  No special expertise needed.
Please be aware of our Mission and Values – which can be summed up as:" "listen generously, come prepared to change your mind and, speak only from your lived experience, in which you are the only expert."
Remember to Join the mailing list for the most current updates.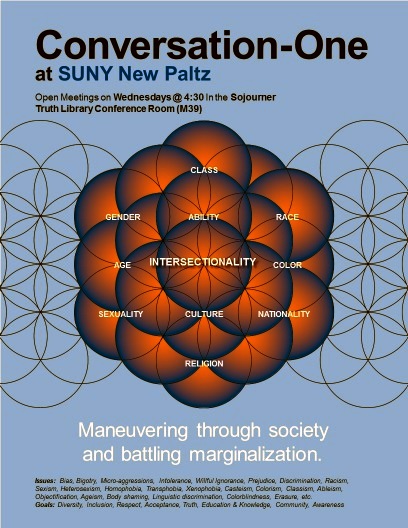 Modified 2018-11-13