About the lending laptops
Laptop Quick Reminders
Must Be returned 15 MINUTES BEFORE CLOSING TIME
In library use only (You can't take it past the security gate)
Check out period is 3 or 12 hours
ALWAYS Have a USB drive with you
PaperCut Printing system Login – Every time you see it login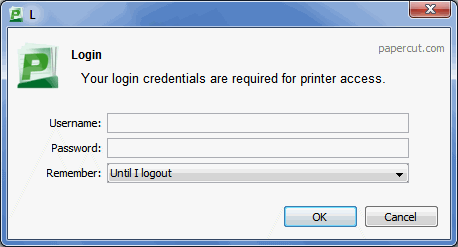 The first time you print the Papercut login will pop up; login immediately.
NOTE: This does not PRINT your print job.
Next Login to the papercut web page. Papercut shortcuts look like the big green letter P.
Printer 1 in the library is set up on these laptops.
Two things to note:
If the laptop is in sleep mode when it wakes you will have to login again. Basically every time paper cut asks sign back in immediately.
Repair Printing shortcut on the desktop will show the login if does not prompt the user automatically & It will reset Papercut if it crashes.
Inside the Library Only and Take Care
These must stay inside the library security gate. You can use them upstairs or down but not out to the lobby. There is a 3 hour lending period. Take good care of them and don't let them out of your sight.
Laptop Power – Batteries Or Plug-In
We will try to give you a charged battery in your laptop and we try not to check out power adapters.
Sound and Headphones
You can check out headphones when you check out a laptop but it is best if you have your own. The sound is off by default you can turn it on with the FN and END keyboard combination or with the sound / speaker icon by the clock. Only turn the sound on when you have headphones plugged in.
Bring A USB Drive
You should always have your own USB drive with you. Never work on campus without a USB drive. A USB drive is the best way to save your files.
You can also use your Hawkmail Google services to save your files:
Sign on to you Hawkmail Google docs account with the Google Drive. User your full hawkmail email address as the user ID in Google drive login.
Email a file to yourself
Modified 2018-05-23